Rice is our main meal in our daily life. Rice milling machine plays an important role in rice processing project. Rice milling process power consumption makes up half power consumption of the whole rice processing factory. So Rice milling Machine is very popular in global markets,because this rice milling machine is multi-purpose,and easy to operate.it is widely used for rural family,individual,farms etc.
Rice milling machine including many steps and parts, the main function is milling paddy to rice, remove the husk, polish and sort the rice. Its output can be from 1000kg per hour to 20 tons per hour. Even more according to clients requirement to manufacture.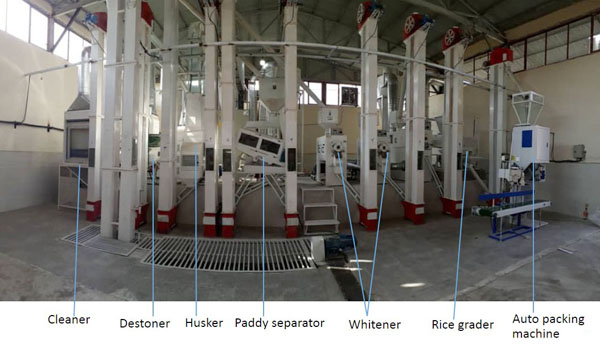 Complete rice milling machine
Below is the detailed introduction of rice milling machine parts and functions:
1. Paddy cleaner: this is the first step of rice milling machine parts. The function is mainly cleaning the stone, impurities of paddy etc.
2. Rice mill, the function is remove the husk and make paddy into brown rice. With different capacities, we match different type of rice mills or different quantities of rice mills.
3. Polishing. The main function is polishing the rice, which make it into white color.
4. Grading section, during the grading section, there will be some broken rice come out , which you can use it for deep processing into glucose syrup or rice noodles etc. With good rice mill and good technology, the less broken rice you will get.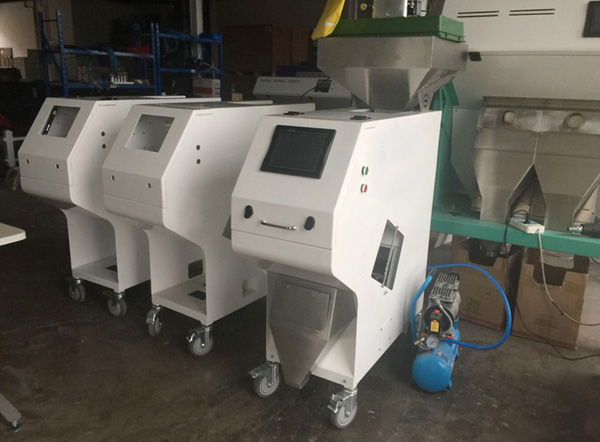 Small color sorter
5. Sorting step. For some small scale rice milling factory, they normally do not match this machine because it is very costly. The function is remove the white color rice and yellow/brown color rice separately
6. Packaging section, you can pack the final rice with vacuum package or other packages.
DOING Machinery is a popular rice mill machinery manufacturer in China with years of experience. With rice milling machine export to foreign countries such as Thailand, India, Vietnam, etc. Please welcome to visit our factory to learn more details about rice milling machine parts and functions.